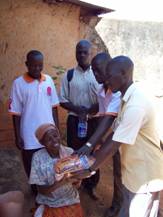 My Name is Lillian Nakitto. With the notable exception of prayers, I don't have anything to give to RECOFU in appreciation of its support to me and my family in general.
My only daughter and son died of HIV/AIDS in 2006 and 2008 respectively, and am looking after two grandchildren.
I cannot forget the wonderful care and support which RECOFU provided to my son before his death. I did not know how to access free HIV/AIDS treatment and it is RECOFU which referred my patient to Mildmay Uganda for effective treatment. Furthermore, RECOFU continued to provide HIV/AIDS counseling, treatment adherence and nutritional support to my ill son up to the last minute of his death.
Since HIV/AIDS does not heal, I believe that my son died happily with lots of appreciation to RECOFU, which did all it could for the life of my son who passed away in September 2008.
In addition, I and my grand children are still receiving support from the organization to survive. Both of my grand children are under RECOFU's sponsorship program since I don't have any source of income. And I am very happy about that because I believe that the most important gift one can give to a child is education.
As a family, we receive whatever nutritional support RECOFU can afford under its community outreach program which I am very happy about.
May the almighty God bless this organization in all its endeavours to help vulnerable people in the community!